The care and attention our animals receive is vital to their successful re-homing. Some of them have had traumatic pasts, some need ongoing medical treatment, and some are just lonely and bewildered. Fostering is often the key to showing them how to trust and be happy, and in some cases help nurse them back to a fitness level that will enable them to find their forever home.
The branch will provide and cover the costs for everything the animal needs including vet visits and medication where necessary as well as day to day items such as food and bedding etc., all you need is a spare room and lots of patience and kindness plus some experience in looking after dogs or cats as appropriate.
Abandoned and orphaned kittens and puppies need round the clock care so we are always on the lookout for special fosterers who are prepared to help these poor unfortunate animals through a critical stage in their development.
We know it can sometimes be hard to part with an animal you have looked after for a while, but the reward in seeing them go to their new home makes everything worthwhile. Here are a couple of stories to tempt you!
Fostering  Click on this link to see our current poster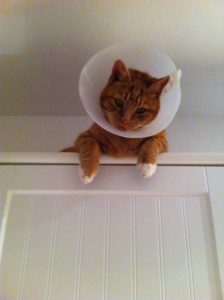 Tigger came into our branch with a severe burn down one side, it took a lot of care and attention to help him back to full fitness.
Despite everything he has been through, he is the most loving cat, his health and happiness are a full reward for the fosterer and he is now happy in his forever home.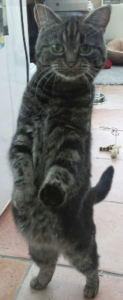 Daisy May came from a multi-cat household so had not been socialised as a youngster. She spent months in different environments without settling, becoming aggressive and very unhappy, not an ideal prospect for anyone!
Eventually one of our fosterers felt so sorry for her, they took her in and with a lot of love and patience managed to find the pet underneath the feral exterior. She is now a loving, playful happy cat and happy in her new home.
Contact Us
If you would like to find out more about any of these volunteering options with our branch, or if you have some good ideas to share with us, please email us:
enquiries@rspca-eastberkshire.org.uk
T: 07852 481 079