Animals Rehomed
Adoption Line: 07852 481 079
–
Age:
17 weeks
–
Breed:
DLH & DSH
–
Colour:
Ginger & white/black & white
–
Gender:
Male
–
Can live with:
Cats, Children
–
Minimum age for children:
5 years
Gary and Kenny were born in the care of the branch, their 2 brothers have been adopted so now this gorgeous pair are looking for their forever home. Gary is semi long haired and Kenny is short haired, they are happy playful kittens but are a little shy until they get to know you. They don't stay still long enough for a photo together hence the 2 separate ones! They have been fully vaccinated and are due to be neutered and microchipped in the next week. Complete the form if you would like to meet this lovely pair of kittens and become their lucky new owners.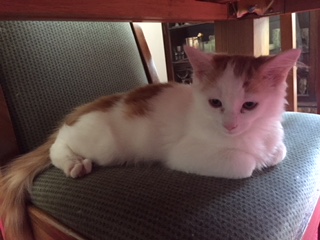 More Pictures