Age: 14 weeks
Breed: DSH
Colour: Black (brown tinge)
Gender: Female
Baloo is the last of a litter of 5 kittens, the other 4 have gone as 2 pairs leaving her as the odd one out! She is very sweet, a little on the timid side but very playful, a typical kitten in fact. She would be fine with other cats but probably ust as happy on her own as long as she has human company for a good part of the day every day. The picture shows all 5 and we think she is the one in the foreground alongside the black and white.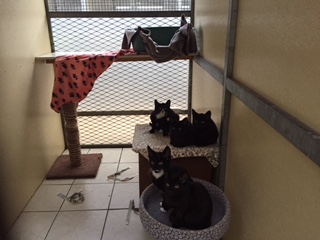 More Pictures
There are no additional pictures for this animal.